Over 150 participants have attended the Translation and Interpreting Institute's (TII) Eighth International Translation Conference. TII is part of Hamad Bin Khalifa University's (HBKU) College of Humanities and Social Sciences (CHSS). The conference opened today at the Qatar National Convention Center (QNCC), and those attending included ambassadors, industry experts, academics and media influencers.
The only event of its kind held annually and exclusively for translation and interpreting scholars and practitioners in the Middle East, the conference aims to be a platform for industry stakeholders to meet and tackle themes subject to international debate, ultimately reshaping the boundaries of a profession faced with the ever-changing expectations of a globalized economy. 
This year's conference theme, titled "21st Century Demands: Translators and Interpreters towards Human and Social Responsibilities" tackled translators' ethical responsibility, often overlooked in an increasingly volatile socio-political international context.
The opening session of the conference was attended by a number of prominent dignitaries, including the Ambassadors of Belgium, Spain, and Syria along with the Cultural Attaché to the embassy of Bahrain. 
Also in attendance was the President of Pre-University Education at Qatar Foundation, Buthaina Al-Nuaimi. HBKU leadership in attendance included the President of HBKU, Dr. Ahmad Hasnah, and the Provost of HBKU, Dr. Khaled Ben Letaief.
23 topics highlighting the field's most critical challenges were discussed during the first day of the conference, by panels made up of prominent international scholars, industry commentators, and media personalities. Among participants were Khaled Almaeena, Editor-in-Chief of Arab News, the largest English language newspaper in the Middle East, and a renowned Saudi television news anchor and talk show host, and Dr. Ahmed Al Banyan, first Dean of the King Abdullah Institute for Translation and Arabization and a member of the Board of Experts at the Council of Ministers in Saudi Arabia, who will also be chairing the "Sparking the Discussion" opening session.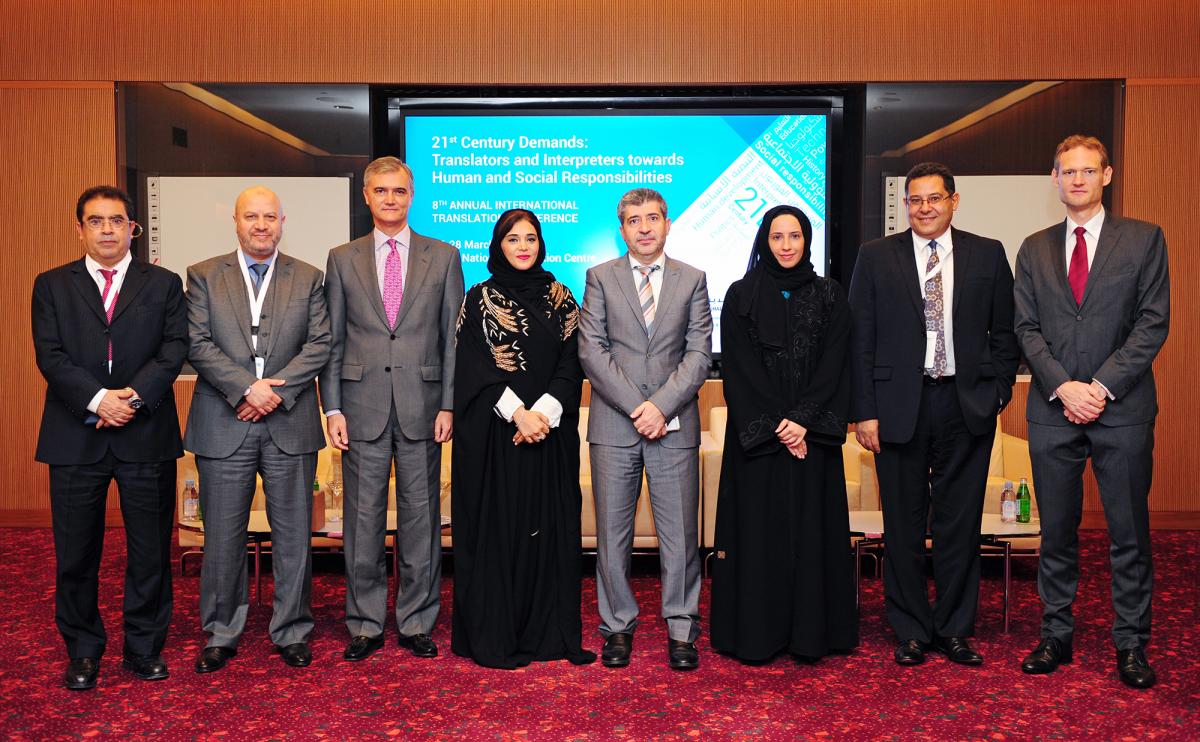 "Ethics and social responsibility in practice, for a profession that often deals with sensitive domains such as law, politics, healthcare, socio-economics, and activism, is a very challenging task", noted Dr. Amal Al Malki, Founding Dean of CHSS at HBKU, commenting on this year's theme. "People often overlook the fact that the role of translators or interpreters goes beyond just dealing with words; they are mediators in essence – social, political, cultural mediators, as need be. This role becomes critical in sensitive contexts, where the translators' ethics and social responsibility is at play." 
The agenda for the first day included five separate panel discussions on a wide range of topics dealing with social responsibility. Topics covered included socio-political analysis of major issues relating to the Gulf and the broader Middle East and North Africa region, focusing on how translation can play a part in ethically representing an issue in the broader public discourse.
Commenting on the role of the conference in addressing the professional and ethical issues facing the field, Almaeena said: The role of the translator is extremely important, especially in regards to a socio-political context. Any mistakes of a translator, either by addition or omission, can sometimes cause catastrophic circumstances. Wars have been started due to mistranslation, and that's what makes it so important that we hold such forums like this one to discuss the ethical dilemmas we routinely face as interpreters and translators.  
In addition to the panel discussions, two individual workshops were held in an effort to emphasize the crucial link between theory and practice. The first workshop focused on "Translation Ethics: Identification, Analysis and Response to Ethical Issues in Translation" by Dr. Ahmed Alaoui, the Head of Translation and Training Center at TII, whereas the second focused on "Practices and Benefits of Translation in Legal, Health Care and Community Areas" by Nabeel Rashid. Currently a translation reviser at HBKU's CHSS, Rashid was part of the Doha Asian Games translation legacy team.
The workshops were open to both translation students and professionals, and introduced them to hypothetical scenarios relating to ethical dilemmas in various work settings. Attendees who were not able to attend the first day's workshops will have the opportunity to attend the same workshops to be held after the conference's closing session tomorrow.