New milestones achieved in the lifetime of Hamad Bin Khalifa University
Hamad Bin Khalifa University (HBKU), a member of Qatar Foundation for Education, Science, and Community Development (QF), celebrated the graduation of its Class of 2018 on Sunday, May 6, at the Qatar National Convention Centre. This year witnessed the University's graduation of its very first cohorts of science and engineering PhD students and Juris Doctor (JD) law program graduates. The University also reinforced its year-on-year growth by graduating its largest class to date on this day. 
The formal convocation was held in the presence of Her Excellency Sheikha Hind bint Hamad Al Thani, Vice chairperson and CEO, Qatar Foundation, and chairperson of the board of trustees of Hamad Bin Khalifa University. This year's graduation ceremony featured Deputy Prime Minister and Foreign Minister of the State of Qatar, His Excellency Sheikh Mohammed bin Abdulrahman Al-Thani as keynote speaker. Other distinguished guests included government officials, members of the diplomatic community, representatives of QF leadership and members of HBKU's board of trustees, as well as faculty, family and friends of the graduating students. 
Founded in Education City as a homegrown, graduate-focused university, HBKU serves as a cornerstone to the State's mission of positively impacting the country's ecosystem. Outlining the prominent role of the University in promoting and facilitating innovation, scientific research and academic excellence, Her Excellency Sheikha Hind bint Hamad Al Thani said: "Hamad Bin Khalifa University plays an integral role in supporting Qatar to create a diverse and sustainable economy, through its commitment to developing forward-thinking intellectual capacity among all our students.
"Each of our exceptional Class of 2018 students who graduate today carries with them the potential to become a driving force of meaningful change, not only in Qatar but throughout the wider international community. We are also particularly pleased to celebrate the conferring of HBKU's first PhD and Juris Doctor degrees today. This marks a significant milestone in our journey to providing lifelong learning opportunities and empowering future generations of professionals who are equipped to deal with the challenges of tomorrow. These students are our future and I wish them the very best in all their future endeavors." 
Two-hundred and six students – including 78 Qatari students and 128 international students, from 42 different countries – graduated from 25 master's and PhD programs as part of HBKU's Class of 2018. The College of Islamic Studies graduated 126 students this year, whereas the College of Humanities and Social Sciences celebrated 19 students. Additionally, the College of Science and Engineering witnessed the graduation of 49 students, and the College of Law and Public Policy's inaugural class constituted 12 students.
This year's graduating class is significantly larger than last year's 148 – a testament to both the university's rapid growth and an increasing demand for its pioneering programs. Additionally, the annual growth in class sizes also underscore the State of Qatar's continued attractiveness as a destination for education in spite of the evolving regional geopolitical climate.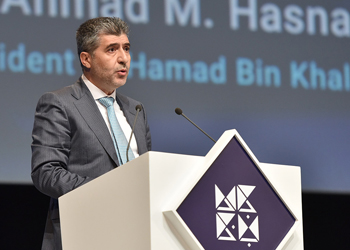 While congratulating the graduating class, Dr. Ahmad M. Hasnah, president of HBKU, said: "Today's graduation ceremony is as much a celebration of the graduates' academic successes as it is a reminder of their new responsibilities to action the knowledge they have earned and serve society for the development of Qatar. The future looks promising and I am confident that our alumni will reach their goals, powered by their own unique creativity and innovation, and driven by their quest for education and experience."
The Class of 2018 also includes the first collection of students to graduate from the JD legal education program at the College of Law and Public Policy. HBKU's JD program is the first-of-its-kind degree in the Middle East and North Africa region. 
Driving an innovative and forward-thinking culture, and propelling a knowledge-based economy, the University produces highly-qualified graduates each year that are steeped in a multidisciplinary education, which combines research, education with hands-on practice.